Precor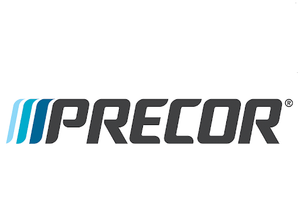 Read Less
Precor strives to bring a personal touch to the experience of every exerciser. Precor aims to develop personalized health and fitness experiences that help people live the lives that they desire. Precor offers an extensive line of fitness equipment to meet all of your training needs.
Treadmills
Treadmills are the bread and butter of cardio machines. They are a simple moving platform with an adjustable speed and incline for limitless training options. They can be used for low-intensity or high-intensity cardio workouts. Users of all skill levels, ages, and sizes can build endurance, lose weight, and improve cardiovascular health by training on a treadmill.
Treadmills are effective for all types of cardio and conditioning, from walking and jogging, to high intensity interval training. Treadmills are a great option if you are training for a race, or trying to lose weight. For those seeking to lose weight, treadmills are an effective option because they are weight-bearing, meaning that you bear the whole weight of your body while using them, and thus can burn more calories during your workout.
While using the treadmill keep in mind not to run too close to the consul, and that it is better not to look up at a TV while using the machine. Looking up to watch a screen while using a  treadmill can hurt your neck, and harm your running form.
Ellipticals
Ellipticals are a great cardio machine option for beginners. These cardio machines are low-impact and easy to navigate. Simply step onto the large pedals, start moving, and you're ready to go.
Similarly to treadmills, ellipticals have an adjustable resistance to offer more options for your workout. Increase the resistance to push yourself more, or use a lower resistance when first starting out to get acquainted with the movement. Start Moderately and increase your resistance and incline later as you build endurance.
Ellipticals are easy to use for beginners and they are easier on the hips and knees than treadmills are. They are good if you struggle with balance and can be a fantastic option if you are recovering from an injury for an effective low-impact workout.
While using an Elliptical it is important to maintain proper form. Keep your back straightened, abs tucked, and pelvis forward.
StairMasters
Also called stair climbers, moving stairs or stair machines. These cardio machines give you the impact of the stair climbing that you would typically do on bleachers, or real stairs. As with ellipticals, these are great for beginners. At a low-intensity they also offer a much higher caloric burn than you would get on a treadmill at the same pace.
StairMasters are a great option for a low-impact cardio workout that increases stamina. StairMasters engage all the major muscle groups of the lower body- glutes, quads, hamstrings, and calves. They are great for toning, excellent strength builders, and great for building endurance in your legs.
While training on a stair-master keep in mind that you don't want to keep your body completely straight. Because of the movement of a StairMaster it is normal to have a slight lean and you don't want to overcompensate for this, which could add strain to your neck and back. Also remember that the handrails are for balance, not to support your body. Don't cheat. If you need to slow it down a notch when first starting out, do that.
Spin Bikes 
Also referred to as stationary bikes, or indoor cycle machines. These machines offer a seat, pedals, handles, and a consul. Just like riding a bike, you start by adjusting your machine to your height. Next, strap your feet into the foot straps, and adjust the consul to your specific workout needs.
While the energy demand from Spin bikes is not as high as running, as on a treadmill, they provide a calorie-burning heart pumping challenge and total body workout. They strengthen your quads, hamstrings, glutes, and hip flexors.
Spin bikes are not high impact, and they are easier on the joints than treadmills. They are a great option if you have a sore upper body, if you have back or lower body injuries, or if you want long duration endurance training.
Squat Racks and Power Racks 
Squat Racks and Power Racks are a helpful workout station for barbell exercises. A rack is designed to support weight when doing squat variations. Two adjustable metal posts comprise the squat stand or rack, which support the barbell.
Power Racks, also referred to as power cages, have four feet connected by four metal bars overhead. Power Racks have three stabilizing legs and two safety bars in the event that you drop the bar. These safety bars protect you from being crushed by the weight of the bar were you to drop it.
Power Racks allow you to lift heavier. They are made of thick steel and can last an extremely long time. While they are an investment upfront, Power Racks are worth investing home or commercial gym because they offer a multitude of exercise options. With a Power Rack alone you can do a full-body workout with weights. You may use Power Racks for bench pressing, squats, pull-ups, and a whole host of other exercises so they are truly multipurpose. in for your
The Squat Rack consists of two steel stands with one or more pins which can be attached to one another or completely separate. It is used to rack and un-rack your barbell when performing exercises like bench presses or squats. Squat Racks are not as sturdy as the power rack. They do not have as much flexibility with workout options as Power Racks, but are effective options for many of the same movements. Squat Racks are similar to Power Racks, but smaller and less sturdy. Squat Racks are a cheaper option and they are easier to use in a smaller space. They are also easier to move around.
Power Racks allow you to lift heavier and can also be used for pull-ups and chin-ups. Power Racks are made of thick steel and last a very long time.
Here at Buy and Sell Fitness we have many new and used Precor gym equipment to meet all of your home or commercial fitness center needs.
Read more...
Our brands