Keiser M3 Spin Bikes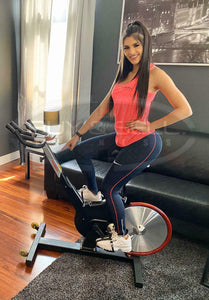 Looking for Keiser M3 Spin Bikes? We have the best prices on refurbished Keiser M3 Indoor Cycles! Prices start at just $999.
Keiser M3 indoor cycles are stationary exercise bikes designed for use in indoor cycling classes and workouts. They are known for their durability, ease of use, and smooth, quiet operation. The bikes are equipped with a magnetic resistance system, which allows users to easily adjust the resistance level to suit their fitness level and workout goals. They also feature a wireless computer display that shows important information such as speed, distance, and calories burned. Additionally, the Keiser M3 indoor cycles are designed with a focus on ergonomics and comfort, making them well-suited for long workouts. Overall, Keiser M3 indoor cycles are popular among fitness enthusiasts and are considered to be some of the best stationary bikes on the market.
Indoor cycling, also known as stationary cycling or spinning, is a great way to get a cardiovascular workout without having to go outside. Some benefits of indoor cycling include:
It is a low-impact form of exercise, so it is gentle on the joints and can be suitable for people with injuries or chronic pain.
It is a highly efficient workout, allowing you to burn a lot of calories in a short amount of time.
It is customizable, allowing you to adjust the intensity and duration of your workout to suit your individual fitness level and goals.
It is a social activity, as many indoor cycling classes are held in a group setting, which can be a fun and motivating way to exercise.
It is convenient, as you can do it at home or at a gym, and you don't have to worry about bad weather or finding a safe place to ride.


Spin bikes are good workouts because they provide a low-impact, high-intensity cardiovascular workout. They engage multiple muscle groups, including the legs, glutes, and core, and can be easily modified to suit a wide range of fitness levels. Additionally, the adjustable resistance allows for a customizable workout, and the stationary nature of the bike allows for safe and controlled movements
Keiser is a leading manufacturer of high-quality gym equipment for a wide range of fitness enthusiasts. The company was founded in 1976 by Dennis Keiser and is headquartered in Fresno, California.
One of the things that sets Keiser apart from other gym equipment manufacturers is their commitment to innovation. They are constantly looking for new ways to improve their products and provide users with the best possible workout experience.
One example of this commitment to innovation is the Keiser M3 Indoor Cycle. This stationary bike is designed to provide users with a low-impact workout that is easy on the joints, while still providing an intense cardiovascular workout. The bike features a unique design that allows users to adjust the resistance levels to match their fitness level and goals.
In addition to the M3 Indoor Cycle, Keiser also offers a wide range of other gym equipment, including treadmills, ellipticals, and strength training machines. All of their products are designed to be user-friendly and easy to use, making them a great choice for both beginners and experienced gym-goers.
Another thing that sets Keiser apart from other gym equipment manufacturers is their dedication to customer service. They offer a comprehensive warranty on all of their products and are dedicated to providing users with the support they need to get the most out of their gym equipment.
Overall, Keiser is a trusted and respected name in the world of gym equipment. With their commitment to innovation and dedication to customer service, they have earned a reputation as a leader in the industry. Whether you're a beginner or an experienced gym-goer, Keiser has the equipment you need to reach your fitness goals.
Read more...
Our brands